Our Weighbridge Test Unit
We operate two weighbridge testing vehicles which each carry 20,400kg of test weights calibrated and traceable to national standards.
We use these vehicles and test weights for weighbridge and high capacity weighing platform verifications and ISO 9001 calibrations.
The unit is available to the trade and trading standards for hire give us a call for more details or make a reservation on the calendar below.
Why our services?
Expert repairs for all types of weighing products
Top quality equipment servicing
Planned maintenance schedules
ISO 9001 Certified
Safe Contractor Apporved
Member of the UK Weighing Federation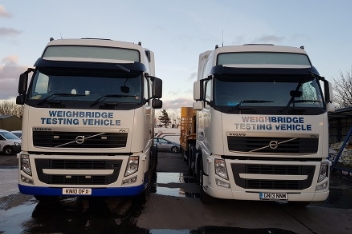 Did you know?
A truck scale, weighbridge or railroad scale is a large set of scales, usually mounted permanently on a concrete foundation, that is used to weigh entire vehicles and their contents.