Crane Scale & Weigh Pads Calibration
At Crosby Weighing, we provide calibration and where possible, adjustment of all types of load links, crane scales and weigh pads. We can also provide compressive and tensile testing alongside calibrations.
We can carry out the calibration or adjustments with either of our two machines which use comparison load cells that are calibrated in accordance with BS EN ISO 376.
Our compressive testbed can accommodate large weigh pads up to 20,000kg and our tensile testing machine is capable of testing large pieces up to 1600mm pin to pin to 100 tonnes capacity.
We aim to minimise any disruption to your operation and can usually collect, test and return within a 24hr period. Alternatively, you can ship equipment to us for testing and we'll ship it back once tested. Give us a call to discuss your requirements.
Why our services?
Expert Repairs for all types of weighing products
Top quality equipment servicing
Planned maintenance schedules
ISO 9001 Certified
Safe Contractor Approved
Member of the UK Weighing Federation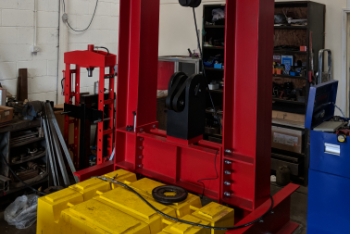 Did you know?
A truck scale, weighbridge or railroad scale is a large set of scales, usually mounted permanently on a concrete foundation, that is used to weigh entire vehicles and their contents.
Request a Call Back
Tell us more about what you need.
Personal Details